Explore Working Opportunities
Canada is a popular destination for individuals considering migrating for career opportunities. This is because Canada is extremely welcoming to immigrants and is so diverse it is considered the world's mosaic with so many nationalities. From 2022 to 2024, Canada will welcome over 1.3 million new immigrants! 
Working in Canada provides several benefits including but not limited to:
The economy of Canada is the 14th largest economy in the world, which indicates its high standard of living.

Unemployment rates are low

Affordable cost of living

Strong financial networks and banking systems

Express Entry immigration program allows individuals to migrate fast
Confused about your career in Canada? Get a chance to speak to our expertise Immigration Consultant at PWG Group for FREE to help you through your concerns and help you gain clarity.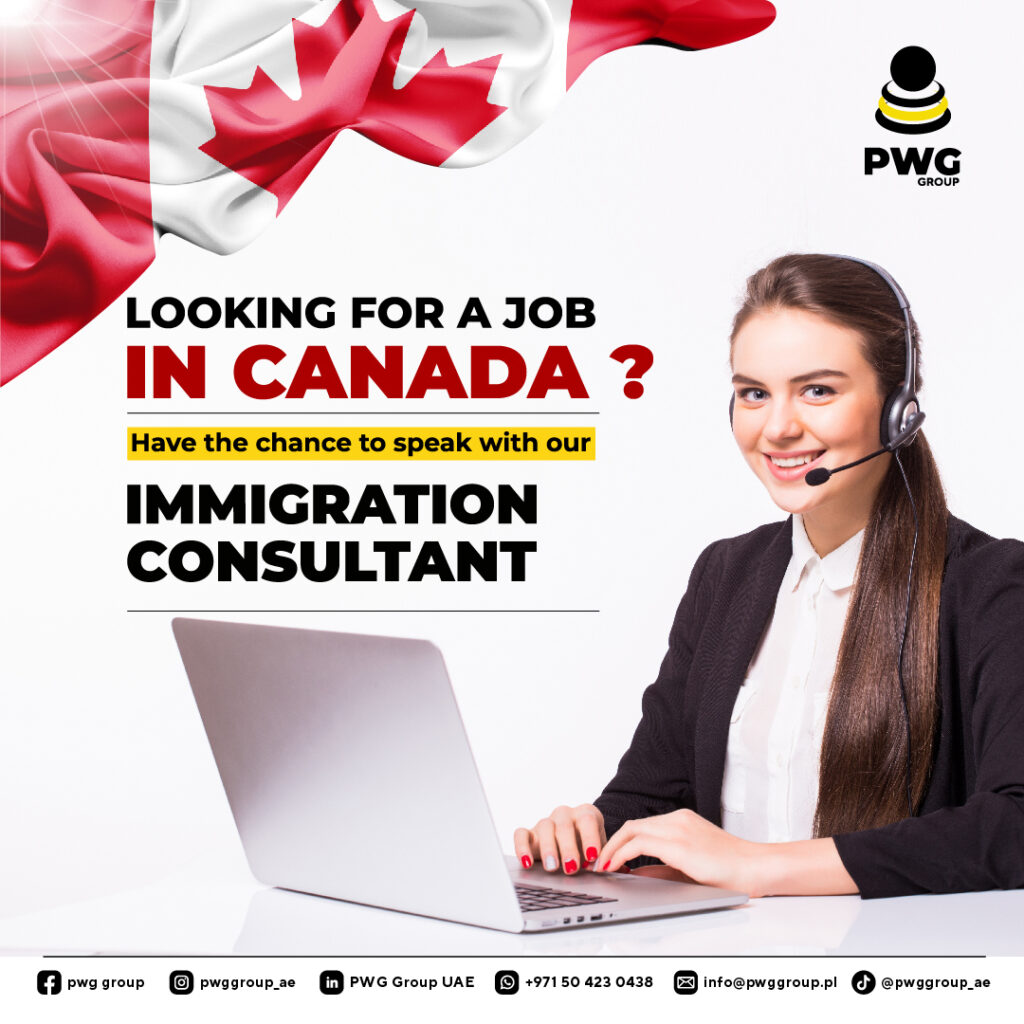 Other benefits of working and living in Canada  include a broad range of opportunities to work across several sectors of the economy including: manufacturing, housekeeping, agriculture, IT, finance, marketing, accounting etc.
TOP JOBS in demand in Canada include welders, merchandisers, drivers, receptionists, electricians, android developers, graphic designers, financial analysts, etc.
At PWG Group, you can apply for these positions (and more) with ease. Find them listed below.
Blue and Pink Collar JObs
Housekeeper
As a housekeeper, your mission is to ensure customers has nothing to complain about when it comes to surroundings. Sparkling bathrooms and clean public areas. You will need to be self discipline and fit. You will make sure all rooms are in good conditions, equipments used are in good conditions, being able to work quickly and efficiently.
$ 2900 – 4000 / MONTH
Cook
You will prepare meals and follow establishment recipes. Duties include preparing ingredients, adhering to the restaurant menu, and following food health and safety procedures. Cook, clean, assist other cooks and staff and deliver food in a fast-paced environment. You should be able to multi-task, open to work different shifts, able to stand for long hours and work well as part of a team.
$ 2900 – 4000 / MONTH
Kitchen Help
You are primarily responsible to keeping a kitchen clean as well as assisting in food preparations for example, preparing ingredients for the cook, making sure ingredients and supplies are well stocked and tidying up the kitchen after daily use.
$ 2900 – 4000 / MONTH
Food Production
You will supervise the production of a food product and also to make sure the sanitation of the production area. You need to ensure the quality and hygiene of food products, develop, implement and monitor the optimum nutrition contents of the products. You must adhere to safety practices, knowledge of software applications, prepare and maintaining accurate records. Have good communication skills.
$ 2900 – 4000 / MONTH
Farm Worker
You will be responsible to
carry out practical work on livestock, vegetables or mixed farms. Your work will varies seasonally and involves tasks which could include looking after livestock, milking and planting, tending and harvesting crops. You will also help with the maintenance
and upkeep of the farm equipments and buildings. You should have genuine interest in farming, you will be ready to take instructions and have a degree of accuracy and work safely at all times.
$ 2900 – 4000 / MONTH
Electrician
You will install and repair electrical systems while adhering to safety codes and regulations. Working both indoors and outdoors, electricians find themselves in home settings, businesses, factories, and construction sites. You will have a strong mechanical understanding of electrical systems, ability to read and interpret blueprints, be friendly and helpful.
$ 2900 – 4000 / MONTH
Truck Driver
You will safely and efficiently drive a large commercial vehicle long distances for extended hours to deliver cargo. All safety regulations and standards regarding size, weight, and break periods must be followed. You should have professional driving experience, willing to work extended hours, knowledge of local routes and have a clean driving records.
$ 2900 – 4000 / MONTH
Warehouse worker
For this job role, you will participate in warehouse operation activities, storing materials, picking, packing and scanning orders. Help increase efficiency, profitability and customer satisfaction in the organization. Be familiar with modern warehousing and practices, good organisational and time management skills, and ability to lift heavy objects.
$ 2900 – 4000 / MONTH
Industrial Cleaner
You will keep buildings in orderly and clean condition. Perform heavy cleaning duties such as washing walls and glass, shampooing rugs, removing trash and cleaning floors. You will have time management skills, be independent, self tolerance and good written and verbal communication skills.
$ 2900 – 4000 / MONTH
Construction Worker
You will work on a variety of construction projects performing general tasks. These tasks include loading and unloading materials, setting up temporary and permanent structures, installing drywall and windows, and painting walls. Some experience is required, ability to work independently and have good communication skills.
$ 2900 – 4000 / MONTH
Caregiver
You will be providing medical and day-to-day care for the elderly, ill, disabled, and other people who aren't able to take care of themselves. You should be patient, attentive, concern, empathetical, able to carry out domestic tasks, knowledge of medicine, listening and communication skills, with a positive attitude.
$ 2900 – 4000 / MONTH
Factory Worker - Manufacturing
As a factory worker, you will take part in at least one aspect of the manufacturing or production process.
You may use machinery or perform manual task as part of the line. You will need good communication skills, to coordinate with the rest of the team and physical
strength and stamina.
$ 2900 – 4000 / MONTH
Fruit/ Vegetable Picker
As a fruit / vegetable picker you are responsible for picking, sorting, cleaning, assembling vegetables in a proper way to avoid spoilage, weighing and labeling the vegetables appropriately. Basic shop skills, ability to follow instructions and strong communication skills.
$ 2900 – 4000 / MONTH
Carpenter
Your job will include duties such as taking measurements, drawing up plans for proposed works, sourcing materials, preparing estimates and undertaking site visits. You must have experience using power tools such as drills, chisels etc, be creative and have design skills, cabinet making skills.
$ 2900 – 4000 / MONTH
Butcher
An individual who prepares meat for sale and/or for the production of meat-based products (e.g. cured meats and sausages). You will work with white meat from farm-raised animals.
$ 2900 – 4000 / MONTH
Welder
You will be responsible for reviewing specifications, laying out metal components, cutting, fabricating, and welding those pieces together to create tools and other metal parts. You should have welding experience and standard welding tools and techniques, interpret drawings and understand project scope.
$ 2900 – 4000 / MONTH