Work And Live In Poland: Top 5 Things You Need to Know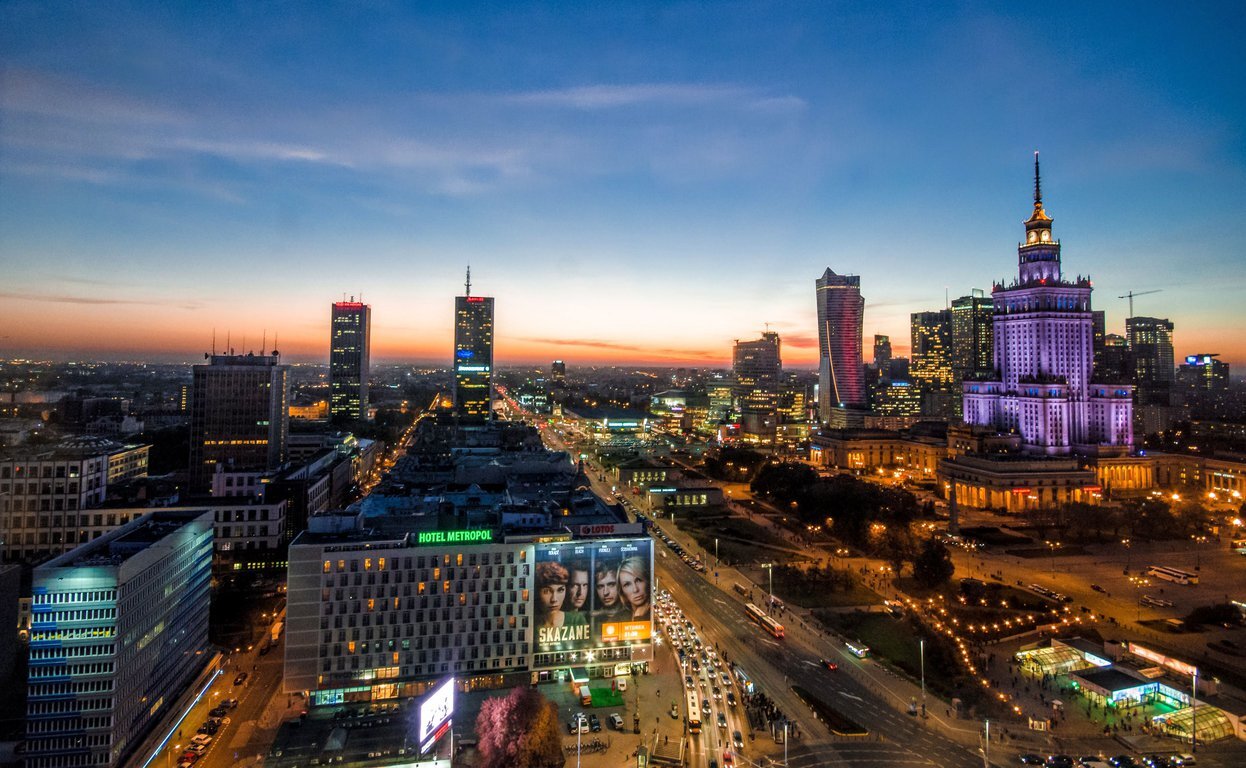 Every year countless people are migrating from their home country to search for greener pastures, better job pay and the list goes on. If you fall into these categories, you begin to wonder, what country do I migrate to? 
Europe is one of the most popular regions since ancient times with high levels of migration and different european countries have put good practices in place that support migrants across different countries.
If Poland made it to your top list of European countries to migrate to, this post will help you understand Poland as a country and how to go about the process of making the land your new home.
Migrating to Poland is definitely a great option when you factor in all the pros and cons in comparison to other european countries. 
According to Tripadvisor, it's one of the top 10 trending destinations in the world. Learn more. With it's great cultural, architectural wealth and a low standard of living. You will fit just right in.
But there are lots of things to consider before embarking on your decision. Read on while we point out the benefits of moving to Poland and the top 5 things you need to know to get you started.
As a resident of Poland you will enjoy the following benefits;
Improved quality of life

Affordable accommodation and food

Retirement pensions

Access to free education 

Quality free health care 

Opportunity for citizenship  

Freedom of traveling across other European countries
Now you know the benefits associated with working and living in Poland, sounds dreamy right? You bet!
Let's work you through on what you need to know or do to make this dream a reality. Our top 5 list will serve as a guide towards your new reality.
Know about Poland- (The country, it's economy, cost of living, language, weather and culture).

A valid passport

A job/work permit

A visa, and

Travel Insurance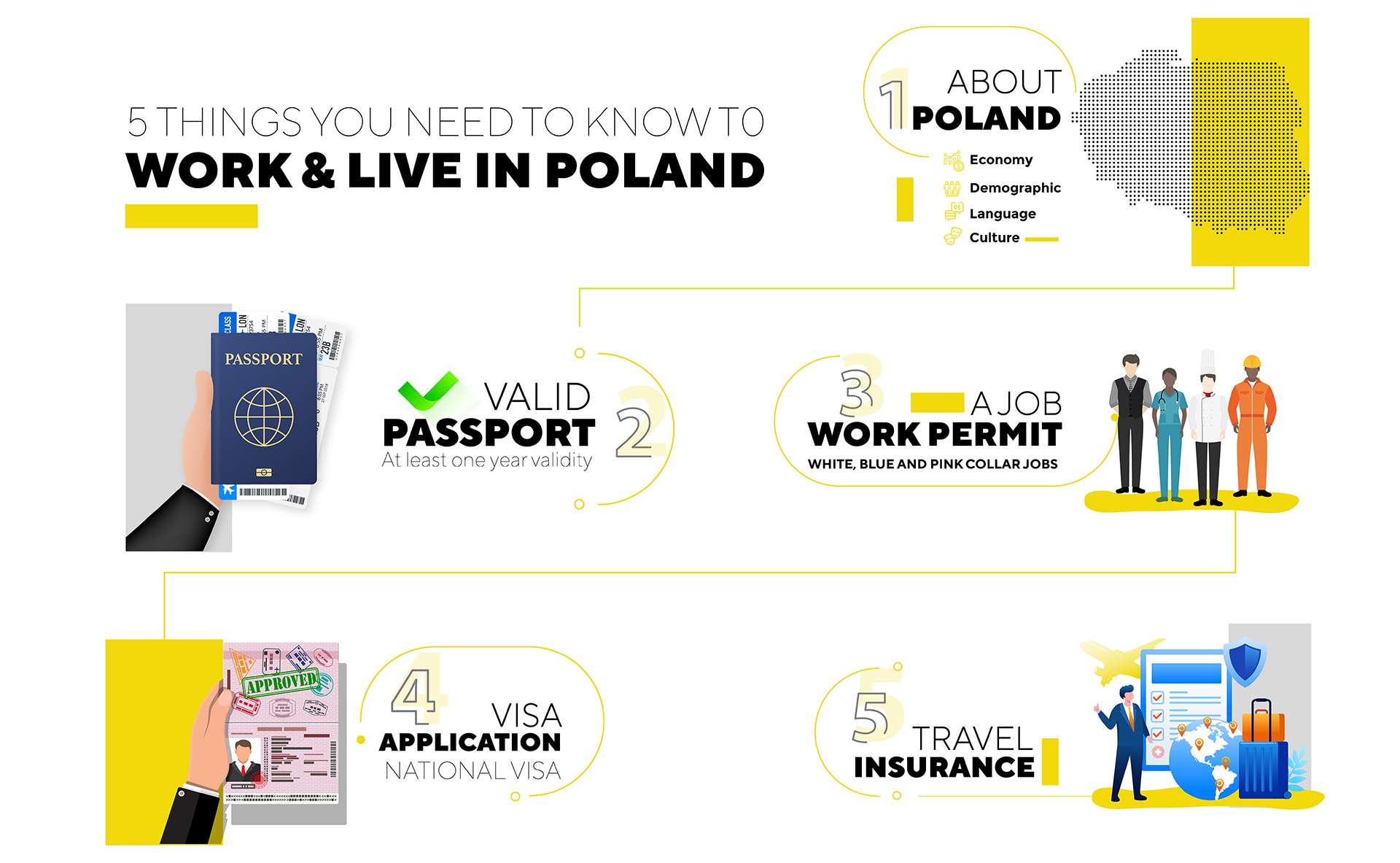 1. About Poland
Poland, officially known as the Republic of Poland, is located in Central Europe. It has a population of 38.5 million people and it's the fifth most populous member state of the European Union. Poland's capital and largest metropolis is Warsaw. Other major cities include Kraków, Łódź, Wrocław, Poznań, Gdańsk, and Szczecin. 
As a choice of country to move to, you have to get familiar and know the basics about your future resident.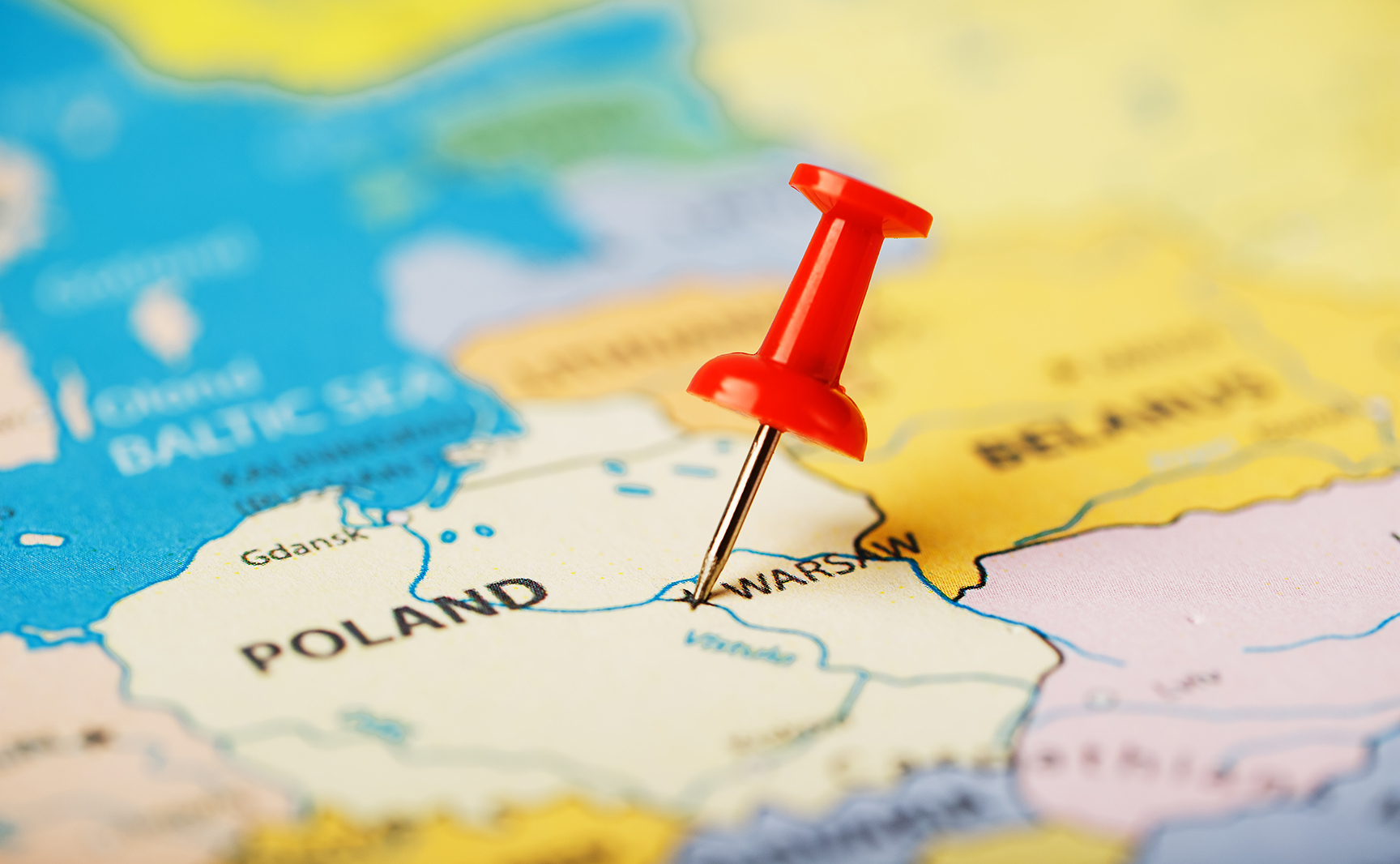 It's Economy
Poland's economy is one of the fastest growing within the European Union with the sixth largest GDP.
Although it's a member of the EU's single market, the country continues to maintain its own currency  Polish złoty (zł, PLN) by not adopting the standard Euro currency.
According to Wikipedia, It ranks as one of the most dynamic economies in the whole world, concurrently achieving a very high rank on the Human Development Index. Poland is the only European economy to have avoided recession in 2008 due to having a strong domestic market, low employment rate, low private debt and flexible currency.
Cost of Living
Poland is relatively cheap compared to other European countries. Affordable price of food, rent and entertainment are usually one of the main reasons why people choose to migrate to Poland. With at least $10 you will readily find a good meal with a pint of beer, this comes in handy to a resident. You don't have to break the bank to have a good time.
Language, Culture and Weather
Language barrier is one of the factors expats consider before migrating, Polish is the official language spoken in Poland, and more than 50% of Poland citizens speak English. Working and living in Poland will be an easy transition for you at work place or daily social life and if you feel the need to learn the Polish due to personal interest, then way to go.
The culture of Poland developed as a result of it's geography connections to other countries.Over the years, the culture of Poland has been influenced by the western cultures. The Poles take pride in their national identity, which is associated with the colors, white and red.
About 95% of Poland citizens are Roman catholic, and 75% of these attend church services regularly. Church holidays have influenced the culture of Poland. If you are in Poland during the holiday period, you will have a memorable experience of an authentic Poland life.
When planning to move to Poland, you should get ready for the summers and cold winters. Be ready for the shift in weather, October is known to be the best enjoyable time in terms of the weather. In winter, you will experience cold winters and heavy snowfalls. Summers are generally warm, with average temperatures between 18 and 30 °C (64.4 and 86.0 °F) depending on the region. Winters are rather cold, with average temperatures around 3 °C (37.4 °F) in the northwest and −6 °C (21 °F) in the northeast.
2. Have a Valid Passport
Before planning to move abroad, one of the most important things you need is a valid government-issued passport. This certifies owners identity and citizenship. Most countries do not allow travelers to enter their country without a valid passport. 
If you don't have one, we recommend you apply for one in your respectives country. A passport with 1-year validity is required to begin your application process.
3. A Job/Work Permit
As a non-EU/EEA or non-swiss citizen, who wishes to  work and live in Poland legally, you need a job and a work permit from an employer in Poland.  Poland's work sector comprises the services sector with 60% of employed population, industry & manufacturing 30% and Agriculture 10%.
You can visit the local job boards for job openings or contact us, at PWG Group, we offer legal employment and our visa services come with available jobs as a direct employer of applicants who want to work and live in Poland or Canada. 
With this in mind, your visa application process is faster with the help of an expert in the industry. Regardless of your job preferences, either, white, blue or pink collar jobs, you can find available jobs, check here.
4. A Visa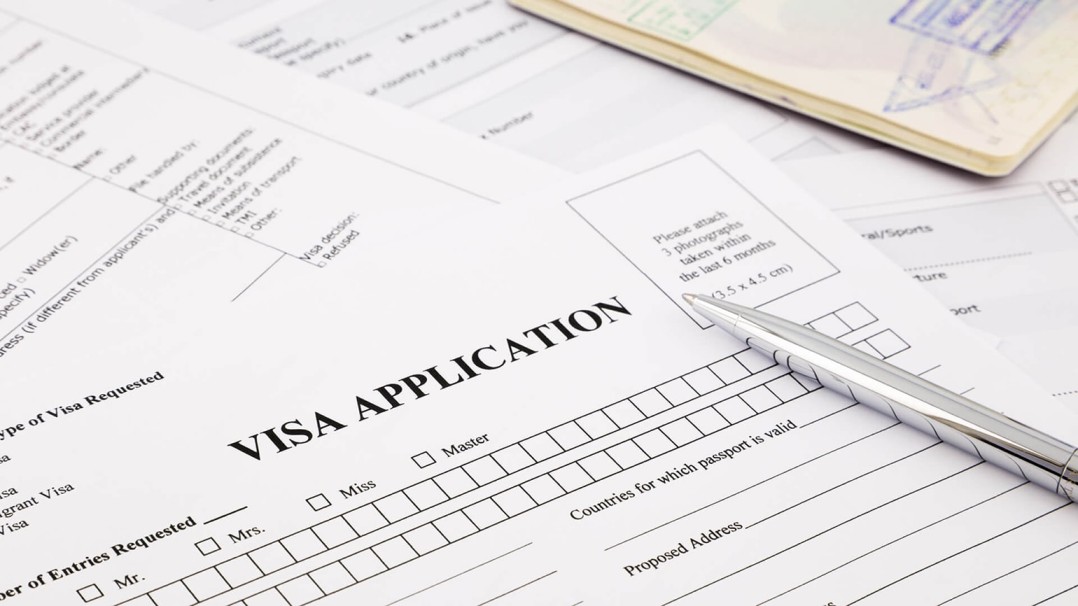 A work permit only allows you to work with an employer in Poland but doesn't grant you entrance into the country. To work and live in Poland, you need to apply for a valid visa with the responsible authorities after you're issued with an official work permit. Visit the Poland embassy of your country and if you need help from an expert contact us by submitting the form and our consultant will be in touch.
There are different visa categories, but for migration purposes you will require a residence visa.
Documents required for a Poland Visa Application?
Four up-to-date passport-sized photos

Three copies of your valid passport

A work permit or a written statement from your employer

Proof of health insurance

Documents supporting your financial stability

documents confirming the cost of your residence
5. Travel Insurance
Lastly, you need travel insurance, a proof of travel insurance  or international medical insurance is required during the application process. Without travel insurance, your application will be rejected.
You can visit any insurance company in your country for more information on travel insurance, but when you apply with PWG Group, travel insurance is provided as part of our services. This will ensure a fast and easy application.
With the recent worldwide pandemic, travel insurance is a compulsory requirement to travel across countries.
How can I start my visa application process?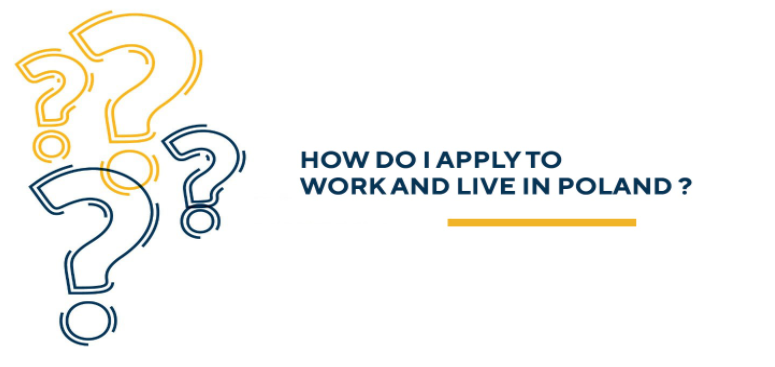 There are a number of ways to go about your Poland immigration process, the easiest and the best way to ensure that your papers and documents are filed properly and increase your chances of a successful application is to go through an expert, a licensed company with knowledge in the procedures. That way you can get best and recommended advice on your application.
PWG Group is a licensed visa service company in UAE, we offer full support during your application process, and from your departure to arrival in your chosen destination. Services from bank account opening, free transportation & accommodation and more; visit us here to know more.

Legal employment

Respect for your rights – no company ban, no holding of passport

Salary always on time

Hourly payment – no limitation of working hours

Free accommodation, transportation, health insurance, regeneration meal
We have helped a lot of applicants fulfil their dreams of migrating abroad. Click here to read our success stories.
Want to migrate to Poland?
Contact us to get started on your visa application. Get started.